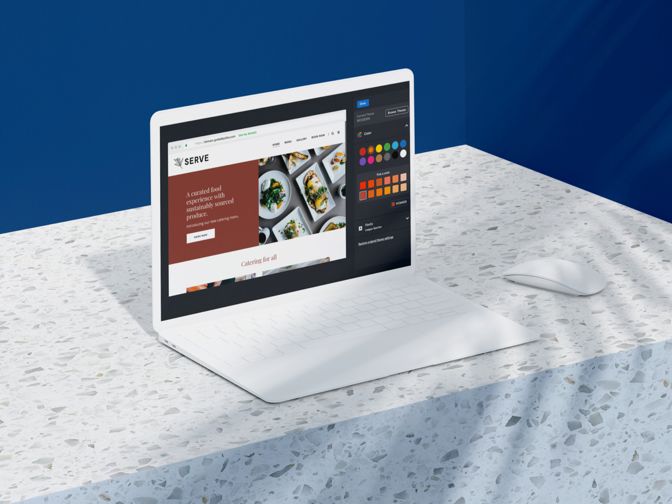 Website Builder Features
A powerful site builder at your fingertips.
If you want to get your business or idea online but don't know where to start, Website Builder makes it simple to create a modern, professional site with no technical knowledge required.
GoDaddy InSight™
Take the guesswork out of building a better business with InSight.
Get help launching your website with data-driven suggestions and tailored action plans powered by GoDaddy InSight™ — the smart tech system on a mission to support your business. From social media presence to sales, and everything in between, InSight provides constant advice on what you can do next to keep improving.
Website Templates
Templates that let you create confidently
Start with one of our designer-made templates to make a website you're proud of.
Make a Website With a Built-In Store
Build the ultimate online shopping experience.
Got products to sell? Online Store has you covered. Create a sleek-looking online store, sell on marketplaces like Amazon and Etsy, track inventory in one place, choose from flexible shipping and payment options, even let customers book appointments online. Whether you sell products, services or digital content, GoDaddy Online Store has everything you need to successfully sell online.  Features available with paid plans.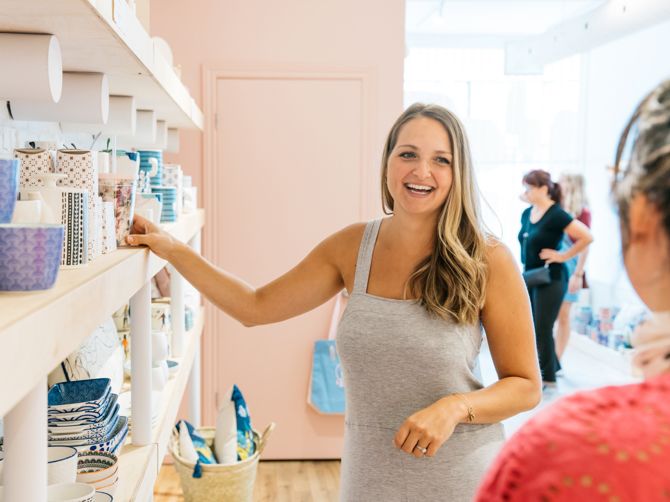 Marketing Tools
Connect with your audience.
Website Builder includes a suite of tools that get your company found on Google and beyond. From Search Engine Optimization to Email Marketing and managing your social media presence, our marketing tools help your business cut through the noise and stand out to your customers. SEO features available with paid plans.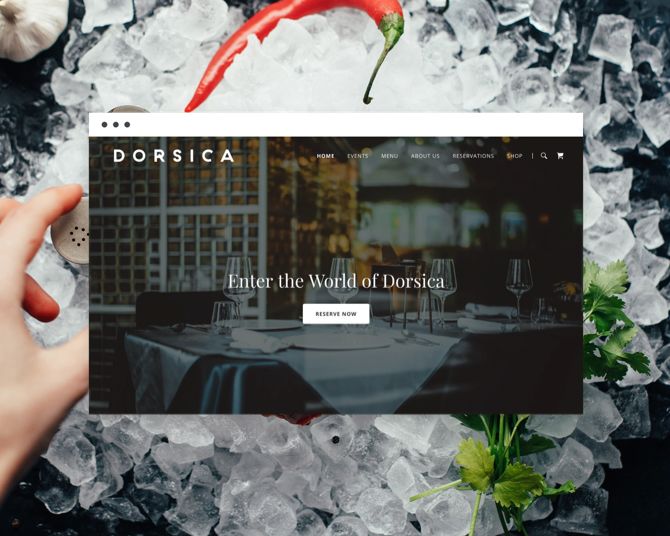 Build your website for free today. Pick a plan later.
Whether you just need a free site that looks great or you're ready for more business-building capabilities, we have a plan for you. Whatever you choose, you're on your way to a brilliant website.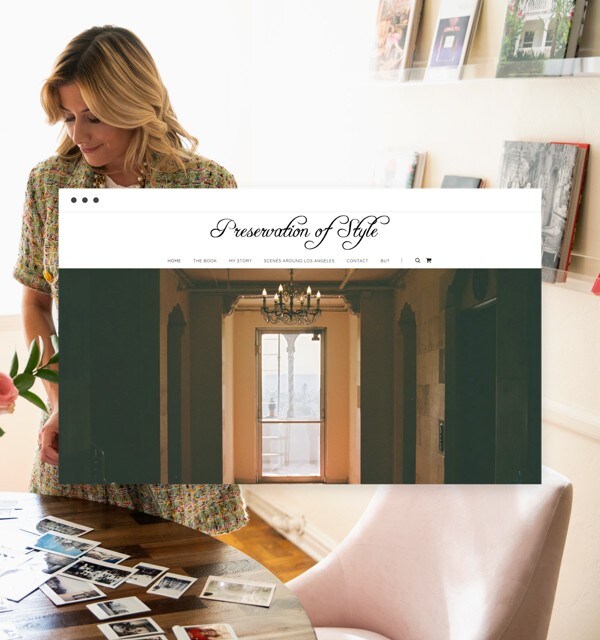 Get inspired by real stories.
Before you sit down to make your own website, gather some ideas from these folks currently using Website Builder.
يسعدنا مساعدتكم. حقاً.
هل مازلت غير متأكد مما تحتاجه؟ اتصل بنا. نحن سعداء بمساعدتك، حتى لو لم تكن عميلاً. نحن موجودون هنا دائمًا لتقديم يد المساعدة. اتصل في أي وقت. 480-463-8386
Website Builder Frequently Asked Questions
What is GoDaddy website builder?

GoDaddy Website Builder is an online editing and publishing tool that helps you create a website, regardless of your technical skill level. Just create an account, pick a design and use the built-in editor to add your own images and text. You can make your website as simple or complex as you'd like. You can even add a full online store complete with product listings, coupons, shopping cart, shipping and multiple payment options.

Can I connect my social media and website?

GoDaddy Website Builder can act as your hub, the place where your friends and contacts can see your posts, photos, videos and more. With the option to link to your Facebook, Twitter, Instagram, Pinterest, LinkedIn and YouTube on your website, your visitors can be everywhere you are on the web. Being able to cover multiple platforms gives you the opportunity to reach more people, while creating appropriate content for each of your socials (like posting all of your photos on Instagram, and tweeting about your most recent business venture on Twitter). By centrally locating all the links in one place – your new website – you are giving your website visitors a seamless experience. Linking to your social media in your website gives you an advantage in communicating with your visitors; the more they can connect with you and do so in the forum that's most comfortable to them, the more they'll engage with your site, and thus you or your business.

هل يمكنني تخصيص موقع الويب الخاص بي؟

قطعًا. لديك الخيار لتخصيص موقع الويب الخاص بك بناءً على احتياجات عملك. ويمكنك إضافة محتوى الموقع أينما تريد في مجموعة متنوعة من الأقسام؛ من صفحات موقع متعددة، إلى أقسام قابلة للتمرير يمكنك إضافتها إلى كل من هذه الصفحات، إلى معرض للصور وقوائم الأسعار ومقاطع فيديو YouTube أو Vimeo. كل قسم في موقع الويب الخاص بك قابل للتخصيص أيضًا، من اسم الصفحة إلى شريط التنقل في موقع الويب الخاص بك. وسيكون لديك أيضًا القدرة على تغيير ألوان النص والأنماط والخط. من المهم إنشاء موقع ويب متجاوب ومتوافق مع الأجهزة المحمولة وأجهزة الحاسوب المكتبي. ومن خلال استخدام أداة أداة إنشاء موقع ويب، ستكون قادرًا على اختيار تنسيقات الأجهزة اللوحية وأجهزة الحاسوب المكتبي لمنح زوارك التجربة التي تريدها.

How can I keep my website secure and safe for my customers?

In all Website Builder plans any data transmitted from your site will be encrypted using a SSL (Secure Sockets Layer) certificate. Your SSL will establish an encrypted link between your web server and the browser of the person visiting your site. This means that all data will be kept private; which is important if you want visitors to your site to be safe. If you want to sell products or services in your store, you will want to have a SSL since it protects credit card and bank numbers from being intercepted by hackers.

Why should I have a website?

By creating a website, you are creating an online presence. This allows you to connect with people that you might not otherwise be able to reach. Whether you're making a basic website with contact information for your medical practice, creating a landing page for your freelance work, a multi-page experience for your wedding photography business or you just want a place to blog about your thoughts on food, having a website will give you a dynamic advantage.

With GoDaddy Website Builder you can have a site and an online store; you don't have to choose between the two. You get to build your website based on type of site you want to create.

Seamless online store integration to get you started with selling online, accepting online payments and working with built-in inventory management for your products and services.

Professional web design with over 16,000 themes that can be custom-fit to the type of website you want to have, and you can change its look at any time — without losing any of your site's content. Most themes include professional and royalty-free images and text, so if you need to get your website published quickly, you can.

Mobile friendly and responsive design means that you don't need to know how to code — this could even be your first time working with a domain — and setting up your new site requires only a few steps. GoDaddy Website Builder is designed to generate style choices that you can quickly review and choose without diving into your site's settings. This will give your visitor an enjoyable experience that feels natural from either a desktop or mobile device.

Are SEO (Search Engine Optimization) tools included with Website Builder?

Select Website Builder plans

 come with built-in SEO tools to help your website show up in search engines like Google. In Website Builder, you'll find the SEO Wizard, a step-by-step guide that provides suggestions on how to optimize each page of your website by adding relevant keywords and descriptions.

What is GoDaddy InSight?

GoDaddy InSight is a technology system that provides tailored recommendations gleaned from insights across more than a million GoDaddy customers in different locations and industries. InSight is designed to help you improve your online presence by providing you with performance metrics and advice on how to improve them. GoDaddy InSight powers a central dashboard where you'll find your:  

GoDaddy InSight Score, which is an assessment of how you're doing across your website, social media and marketing activities.  
GoDaddy InSight Metrics, which offer details about your website activity, and social sites including Google, Facebook and Instagram. Plus, the ability to respond to reviews from one place.  
GoDaddy InSight Action Plans, which give recommendations on what to do next to improve your online performance. 

ماذا عن عربة التسوق؟

يمكنك إنشاء موقع ويب يتيح لك بيع المنتجات والخدمات إذا كان لديك خطة التجارة الإلكترونية. وسيكون لديك متجر على الإنترنت يسمح لك بإضافة منتجات وخدمات، وإعداد أنواع مختلفة من طرق الدفع، وحتى أنواع معينة من الشحن. وسيتم دمج متجرك في موقع الويب الخاص بك كصفحة. يمكنك إضافة منتجات مميزة للزوار للانتقال خلالها وإجراء عمليات شراء سريعة باستخدام PayPal وApple Pay والترويج لمتجرك/منتجاتك من خلال القسائم. يمكنك أيضًا استخدام نفس النوع من التسويق عبر البريد الإلكتروني المضمّن في خطة Business Plus لإرسال اتصالات عبر البريد الإلكتروني إلى المشتركين والعملاء بشأن المبيعات في متجرك وعروض القسائم والفعاليات. ويمكن أن يؤدي إنشاء تجارة قوية عبر الإنترنت إلى تعزيز مبيعاتك الحالية، خاصة إذا كان لديك متجر فعلي على أرض الواقع.
Disclaimer
Third-party logos and marks are registered trademarks of their respective owners. All rights reserved.
* The Free Website service is a free version of the Websites + Marketing service and will renew on a monthly basis without charging you.  Not all features available in the Websites + Marketing service are included in the Free Website service. Should you choose to add additional Websites + Marketing features or services to your Free Website service it will convert to a paid plan which will automatically renew at the then-current renewal price with no further action from you, until cancelled. You may cancel the automatic renewal of the free service or the converted paid plan at any time by visiting your account and turning off the auto-renewal feature ("cancel renewal"), or by contacting customer service. If you choose to cancel Free Website service, any content or data you have entered into the service will only be retained for 60 days from the date of cancellation for customers with billing addresses in non-GDPR countries or 30 days from the date of cancellation for customers with billing addresses in GDPR countries.  In addition, GoDaddy reserves the right to deactivate a site if it is inactive for over a year, which means the site has had no traffic and/or no customer logins, or at GoDaddy's sole discretion. Customer support may be limited for this Free Service and may be modified at GoDaddy's sole discretion at any time.  

GoDaddy reserves the right to cancel, suspend or modify part of this entire offer at any time without notice, for any reason in its sole discretion. This service cannot be resold, transferred or combined with any other offer. Your use of this service is subject to the GoDaddy Universal Terms of Service, GoDaddy Privacy Policy, and any other applicable agreements. Third-party logos and marks are registered trademarks of their respective owners. All rights reserved.