10 social media mistakes and how to avoid them
To err is human, and behind every great business social media presence is a human (or several). We all make mistakes, and the same is true with social media management. However, while a hashtag typo or an incorrect link can (and likely will) happen as you market your brand, they are certain social media mistakes you can avoid.
10 social media mistakes to avoid
We've highlighted the top 10 most common social media mistakes with pointers on how to avoid them.
Treating all social media platforms the same.
Creating an overly promotional social presence.
Lacking a strategy.
Having ill-defined objectives (or worse) no goals at all.
Ignoring your followers.
Posting inconsistent or irrelevant content.
Being inauthentic or not personal enough.
Leaving no space in your calendar for timely posts.
Focusing on quantity over quality.
Forgetting about the magic of repurposing.
Whether you're starting a new business or optimizing your current social strategy, you can sidestep these common blunders with a little knowledge and preparation.
Social media mistake 1: Treating all social media platforms the same
Every social media platform is a different ecosystem with its own nuances. On Instagram, you can't include clickable links in captions. Twitter has a 280 character limit for posts. LinkedIn is a strictly-professional network, while Pinterest thrives on creativity.
On certain platforms, you can, and should, tag accounts to cross-promote. On others, that would be bad form.
Bottom line, not all social platforms are created equal. Not even close.
So if you create one generic post and copy and paste for all your channels, you'll see lackluster results. What's more, you likely don't even need to be on every social media platform. Certain networks will make more sense and drive better results for your business than others.
How to avoid it: Do brief competitor research to see where similar businesses in your industry focus. Buffer explains which channels most businesses use. Unsurprisingly, the top three are Facebook, Twitter and Instagram.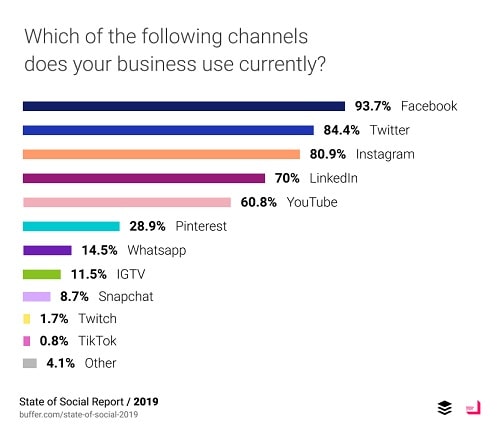 Dig into Digital 2020 Report for specific demographic data for each platform. Learn where your customers and prospects live and focus on those channels with messaging that's tailored for each.
Related: The don'ts and don'ts of social media marketing for SMBs

Social media mistake 2: Creating an overly promotional social presence
A typical social media mistake is to treat your profile like a purely promotional vehicle. The online audience sees more than enough advertising. The Sprout Social 2019 Index report found that 35% of consumers will unfollow a brand if they post too many ads.
Your social media presence should not be a billboard for your business, but instead a network to meaningfully connect with your community and share useful information. It should also serve as a knowledge center and resource for you to gain valuable insights.
How to avoid it: Remember that social media is an opportunity to educate your audience, participate in relevant industry conversations, promote thought leadership and even recruit employees. For example, 84% of organizations use social media for talent acquisition, and 70% of employers use social media to screen and research potential candidates. Utilize your social platform like the robust tool that it is.
Practice social listening to figure out what posts and content resonate with your target audience.
Then, find the right mix of promotional vs. engaging posts for your business. Traditionally, marketers promoted the 3-to-1 ratio (three engaging posts to every promotion) or the 80/20 rule (80% of your posts should inform, educate and entertain, and 20% promote).
However, there are no hard-and-fast rules anymore. It truly depends on the brand and audience. Just don't overdo it on promotions. Social media is not the place for hard selling.
Related: 15 social media tips and best practices
Social media mistake 3: Lacking a strategy
Developing a strategy is not easy—47% of marketers struggle to create one that supports their organization's goals. However, a strategy is absolutely essential before you spend any time or resources on social media marketing.
Many brands think that regularly posting images of their team or reposting interesting content is enough for their social presence. But if you want to drive true growth and see ROI, you need goals and plans.
Beyond your general strategy, you need to have a plan for each platform, including a distribution schedule. People are active on social media at different times.
Automating a post across all the channels at the same time can make your brand look socially "thirsty."
Imagine this scenario: I'm your social media follower and a potential lead. On my lunch break, I check my three favorite social platforms—Facebook, Instagram and Twitter. I see the same post for your business on all three. I feel like it's spammy and clogging up my feed and unfollow your account. It's a rookie social media mistake.
How to avoid it: Approach social media as you would any other campaign for your company. To create your strategy, outline:
Specific goals, (more on that next)
Budget (finances) and resource allocation (i.e., who on your team will execute)
Plan of action (deadlines and schedule)
Key performance indicators (KPIs) to measure results
Don't get stuck in analysis paralysis, trying to create a complex plan. The above four points are enough for the foundation of your strategy.
To plan your distribution schedule, look at when your followers are most active on each channel. (You can find that data under the Insights section for each platform). Then make sure to distribute your post times throughout the day. For example, LinkedIn at 9 a.m., Twitter at 12 p.m. and Instagram at 3 p.m.
Lastly, decide on which metrics to track so you can not only measure your effectiveness, but also make data-backed decisions for future strategy. Tracking KPIs and metrics is especially important if you invest in paid social ads.
Related: Create a winning social media strategy for your business in 8 steps

Social media mistake 4: Having ill-defined objectives or (worse) no goals at all
Goals ensure that your efforts are purposeful. The first part of a social media strategy is outlining goals. Many businesses have vague aspirations for social media that aren't tied to real results.
While the general goal of social media marketing is to grow and sustain your business, you also need specific objectives so that you can benchmark your efforts and measure success.
All of your work on social media should be to advance your business's specific goals. Many marketers forget this.
How to avoid it: Try the SMART goal-setting technique to help frame your business's objectives. Make sure each goal is:
Specific: Clearly defined goals will help your team stay on the same page.
Measurable: Use your KPIs and metrics to measure success.
Achievable: Given time and budget, can you achieve your goals?
Realistic: Is success possible with your resources? Have other brands done the same?
Time-sensitive: Set deadlines for all goals.
Take a look at other social marketers' top goals to get inspiration for your own.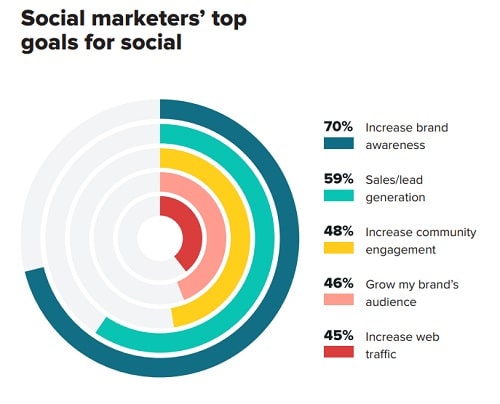 Decide what outcomes you'd like to see from your social media marketing. Measure those KPIs, and regularly check in on your progress.
Don't forget that social media is a long-term game, so tracking your ROI along the way will help you and your management recognize growth.
Related: Social media metrics and ROI
Social media mistake 5: Ignoring your followers
The whole point of social media is to be social, to interact with others digitally. You want to cultivate your followers to become brand advocates, potential customers and converted leads.
Too often, companies make some of the most common social media mistakes: posting without engaging with followers, not responding to comments or ignoring negative feedback and reviews. Not only does this look bad for your brand, it actually hurts your visibility in the long run.
Hootsuite explains in their guide to the 2020 Facebook algorithm that starting conversations and audience engagement increases your reach.
How to avoid it: By all means, you should hide or flag untrue or harmful comments (aka, trolls). However, for real upset customers or clients, you should publicly respond to feedback then take it to a private conversation to address directly.
On the flip side of the coin, you should also engage with happy and positive follower comments. Thank people for sharing your content or commenting on a post. Ask questions, then start meaningful conversations when people answer.
Remember that each engagement touchpoint can increase your reach. When someone comments on your content, their followers can see that post too, which invites even more active participation.
Additionally, user-generated content (UGC)—a follower posting about, tagging or mentioning your brand—is often an untapped gold mine.
Related: How to use social media to find international customers

Social media mistake 6: Posting inconsistent or irrelevant content
While it might not seem like the end of the world to miss a few days of social because you're short-staffed or busy with operational projects, the algorithms are extremely sensitive. Posting regularly and stopping cold turkey can affect impressions, reach and other factors.
Facebook confirms that posting frequency is a ranking signal for its algorithm. Therefore once you resume normal activity after a break, your posts will show up on fewer of your followers' feeds.
Consistency doesn't have to do with just schedules. You also need to be consistent in your brand voice and overall content.
A common social media mistake is for a business to step outside their lane and post or comment on a trending topic that doesn't relate to their company.
Followers take notice of this, according to that Sprout Social survey we mentioned earlier, 51% of consumers unfollow brands due to irrelevant content.
How to avoid it: Keep a consistent pattern with your posting schedule. Share quality content that's valuable to your followers, and also aligns with your business's products, services and overall branding.
Related: Arab social media behavior
Social media mistake 7: Being inauthentic or not personal enough
No matter the size of your company, human touch makes a difference. Customers, clients and potential leads want to put a face and name to your business.
One of the main reasons social media is so effective is because it provides a space for real people to engage with one another in their own voice.
Moreover, your followers want to interact with real and authentic people from your company, not an AI-driven bot.
Social media users are savvy, they can sense poorly created, bland and automated content from a mile away. Recent reports confirm that 86% of consumers say authenticity is important when deciding what brands they support, and 57% think less than half of all brands create content that resonates as authentic.
How to avoid it: Post pictures of your team, get real in your captions and focus on storytelling. Strive for relatable messaging. To authentically connect with your target audience, you can't be another faceless company on a feed.
Social media mistake 8: Leaving no space in your calendar for timely posts
Social media can't be a set-it-and-forget-it activity. Sure, you can plan and schedule a good portion of your posts. But you need to leave room in your calendar for timely topics.
It's beneficial to inject seasonal or trending angles into your content, to show that your business is up with the times. Too often, businesses batch create and schedule content with only evergreen topics (not related to the season or time-specific events).
When you leave no room for spontaneity, you're missing out on micro-moments, trends, pop-up events or the latest industry news.
How to avoid it: Leave space in your social schedule for trending topics, and keep an agile mindset so you can jump on relevant trends to capitalize on increased interest. For example, a Pittsburgh-based bakery could run and promote a football special the Monday after a Steelers win, to take advantage of local excitement and increased social traffic.
Related: 7 social media tools every small business should love

Social media mistake 9: Focusing on quantity over quality
While I touched on this in the first mistake, spreading yourself too thin is such a typical social media mistake that it requires its own section. So many brands post too often, which is a quick way to get blocked or unfollowed. Or companies try to be present on several networks and struggle to keep up.
Smaller businesses attempt to compete on large platforms like Instagram and can't find their niche audience, then get buried by national companies with huge budgets. It's a common tale, and the importance of quality cannot be stressed enough.
How to avoid it: Focus on the correct platforms. It's better to have a strong presence on two channels than do a mediocre job with five. With your goals and strategy in mind (remember realistic and achievable), focus on creating high-quality content that will resonate with the right audience.
Your goals help you stay on track. If you have one clear objective, like "increase product sales by 10%," it's easier to ignore potential distractions that pop up—such as "maybe I should be on TikTok"—that don't align with your brand and strategy.
Remember, followers care more about quality and consistency than volume and scale.
Social media mistake 10: Forgetting about the magic of repurposing
With all these social media mistakes in mind, the last one might seem counterintuitive, as I've cautioned about treating platforms separately and creating unique, strategic content. Despite that, when done correctly, you can repurpose content on social media.
You work hard on content. Items like blog posts or instructional videos can take hours. Many companies then promote them with one social post and call it a day.
This is a mistake.
You can creatively repurpose your hard work to get more mileage out of it, without seeming like a broken record. For example, one whitepaper can provide endless data points that you can recycle into individual social posts.
There is so much information from your company, customers and team members (not just marketing staff) that will curate engaging social media content.
The marketers who aren't using all their resources and squeezing every last ounce out of their existing content are working harder, not smarter.
How to avoid it: Repurpose content as much as you can. If you create a blog post, infographic or educational guide, promote it on social media a few times.
To avoid being repetitive, simply space out the posts by a few days, and pick a unique angle. For high-performing content, make note of it and revisit it again in a few months.
Use these tactics to repurpose your content into multiple social media posts:
Switch up the captions.
Pull out an interesting quote or statistic to highlight.
Use an image or graphic as an individual post.
Suggest actionable tips or takeaways.
Use sales tools or assets to promote product or service features. Hint: You can crop specific sections of one-sheets to make them social-friendly.
Ask your customer service team about common questions they receive, then answer those with an FAQ social media series.
If you have a lot of great reviews, message customers to ask if you can post them on your social media account. Then thank them while also highlighting your win.
Don't make these social media mistakes
Social media mistakes will happen. However, you can avoid the common pitfalls many marketers make by preparing your strategy and planning ahead.
Use this guide to prevent classic social media mistakes and optimize your brand's presence on the right networks, with value-driven content that works to achieve your strategic goals.
This article includes content originally published on the GoDaddy blog by the following authors: Christopher Carfi, Jennifer Dunn, Noah Plumb and Tom Ewer.
Image by: GoDaddy