A quick guide to TikTok marketing for small businesses
The one constant you can count on with social media is that it's always changing. Just when you think one platform has managed to monopolize the space, another comes along and the landscape shifts. Right now, TikTok is emerging as one of the most popular and powerful social media platforms on the planet. While young Gen Zers were once the main TikTok marketing demographic, as the popularity of this short-form video sharing platform grows, droves of millennials are also flocking to the platform.
Whatever your niche, if you're a small business owner looking to expand your audience and drive traffic to your website, investing in TikTok marketing is essential.
To help guide you to social media success, we'll look at a mix of practical TikTok for small business marketing tips.
But, before we do, let's consider why TikTok is so important right now.
Why is TikTok marketing so important?
As a video-based social media platform, TikTok encourages a huge amount of engagement, and if you produce the right content, you will connect with even more potential customers.
You'll also encourage more people to invest in your products or services in the process.
To put the potential of TikTok into perspective, here are some stats and insights to keep in mind:
Related: Create a winning social media strategy for your business in 8 steps

Essential TikTok small business marketing tips
Now that you know why TikTok marketing will benefit your business, let's look at practical ways you can put theory into action—starting with a little something called paid advertising.
Use paid ad placements
Although you will need a modest advertising budget to begin with, when executed successfully, paid advertising offers an excellent return on investment (ROI) across many social media platforms and TikTok is no exception.
While TikTok's paid advertising is still in its early days compared to the likes of Instagram or Facebook, it can still be a viable way to boost your brand awareness and attract shoppers or visitors to your website. Here's how to get started:
Sign up for a TikTok ads account: Visit TikTok's official advertising platform and create an account for your small business.
Create your campaign: Once you're all set up, you can create a paid advertising campaign, setting your objective, ad placement type and target demographics (age, location, interests, etc.) to tailor your ad to the right audience. With your campaign details defined, you will be able to set a budget and schedule to ensure your ad reaches the right audience at the right time.
Follow these best practices: This hand-picked video will help you understand what you need to do to make your TikTok ad as successful as possible.
Now that you're all up to speed with the paid advertising side of things, let's look at TikTok trends.
Hop on trends
One of the keys to successful TikTok marketing for small businesses is keeping your eyes peeled and your ears to the ground.
We know that you're busy and don't have time to scroll through TikTok all day, but when you are on the platform, searching for relevant trends will prove an effective use of your time.
To discover trending videos or content in your niche, you'll need to search for the right hashtags.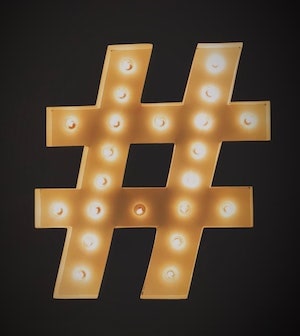 Like Instagram, hashtags are the lifeblood of TikTok in terms of visibility, and if you tap into the right pocket of the platform, you'll be able to:
See what your competitors are producing and saying. You can use this as fuel for the creative fire, and find ways to improve on the videos your competitors are publishing.
Connect with prospective customers by leaving comments, engaging with relevant content, and tapping into conversations.
Leverage relevant and well-performing hashtags to help promote your original TikTok content and reach the right audience.
To help you on your quest for trending success, here is a list of 100 powerful TikTok hashtags for your consideration and exploration.
Create original content
Speaking of original content, creating your own funny, inspirational or compelling TikTok videos is the best way to stand out on this platform.
When it comes to creating original TikTok content, you can be as creative as you wish as long as your video is 60 seconds or less.
You can mime to famous sound clips, add music or audio sound effects, and apply images or filters. But, to really strike a chord with your audience, you must get your fundamentals right:
Decide on the key message you want to convey. Remember, you only have 60 seconds, so work with one strong message or concept to avoid confusion and maximize your impact.
Don't self-promote or use "salesy" language. If you do, TikTok users will breeze right past you and never look back. Yes, you are a small business marketing what you have to offer, but the best way to make a mark with your content is to inspire, entertain or offer genuine value.
Set your tone from the outset. Before you dream up your concept and hit the record button, you should decide on the tone of your TikTok video. Do you want to be hard-hitting and stoic? Do you want to make people roll on the floor laughing? Do you want to be sarcastic? Or maybe empathetic? Setting your tone from the outset will give your video direction and make it far more engaging as a result.
If there is a video trend or contest, jump on it and throw your hat in the ring. TikTok is chock-full of trending video challenges and contests. Find one in your niche, create a video with a unique twist, and you will grow your follower base steadily over time. You could even launch a little contest of your own.
Humans connect with and digest narratives or stories better than anything else. While you only have 60 seconds, there's no reason why you can't tell an interesting tale with your video in that time. Carve out a clear-cut beginning, middle, and end and you'll have the framework for a TikTok video that has serious small business marketing potential!
Related: Is TikTok the next big thing?

An excellent example of a business hopping on a trending hashtag while having a firm grasp on their brand tone is Chipotle.
To celebrate one year of TikTok, the fast food brand leveraged the hashtag #oneyearofTikTok to promote its quirky yet catchy video across a host of additional social media platforms like Instagram, Twitter, and Facebook.
The clip in question features tortilla chips cluttered around a bowl of guacamole with Adele's "Someone Like You" playing over it.
As the sound bite itself features Adele's audience singing back to her, the video creates the illusion that the chips are singing to the guacamole.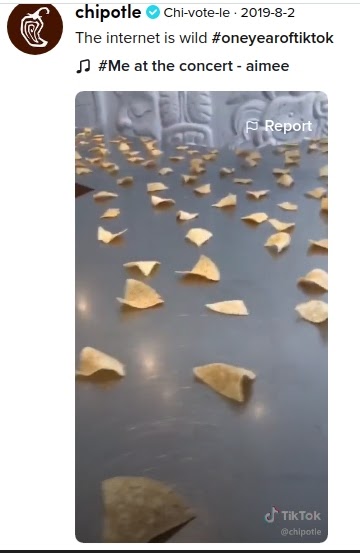 This simple yet entertaining (and highly effective) video enjoyed tons of engagement on TikTok, earning Chipotle a wealth of new fans while boosting brand awareness across social media.
A shining example of original TikTok marketing in action.
Tip: If you're looking to create a COVID-19 themed video, here are some key coronavirus messaging tips that will help you during the creative process.
Dabble in user-generated content
Another effective TikTok marketing tip for small businesses is to shine a little light on user-generated content (UGC).
More than 86% of companies currently employ user-generated content as part of their marketing strategy—and you should too. Social media fans love interacting with the content of other users, after all.
When it comes to TikTok marketing, one of the best ways you can leverage UGC to your advantage is to share and curate the content of users posting videos based on your niche.
By shining a light on the content of others, you will connect with more people, improve your engagement levels, and build trust with your audience.
Using this simple yet effective TikTok marketing tactic, you will be able to showcase your services and products in a way that is fun and authentic, and increase your revenue in the process.
Get influential
Influencer marketing is one of the most powerful social media marketing methods.
If you team up with TikTok influencers in your niche, you will be able to promote your brand to the people who are most likely to find it valuable.
Big brands such as Calvin Klein, Sony and FIFA have dipped their toes into influencer marketing campaigns through TikTok, reaching plenty engaged users of all different demographics, and as the platform continues to grow in popularity, more businesses will follow in their footsteps.
A shining example of influencer marketing on the platform comes from TikTok itself.
To promote its addictive bite-sized video-making capabilities, TikTok teamed up with a mix of celebrity influencers for a "15 seconds of fame" meme-athon.
Developed to build awareness and improve platform engagement in its earlier days, TikTok asked celebs like Kris Jenner, Charlie Puth and Paris Hilton to create short TikTok video memes using the hashtag #memeathon, sharing the content via their respective Twitter profiles to extend the campaign's reach: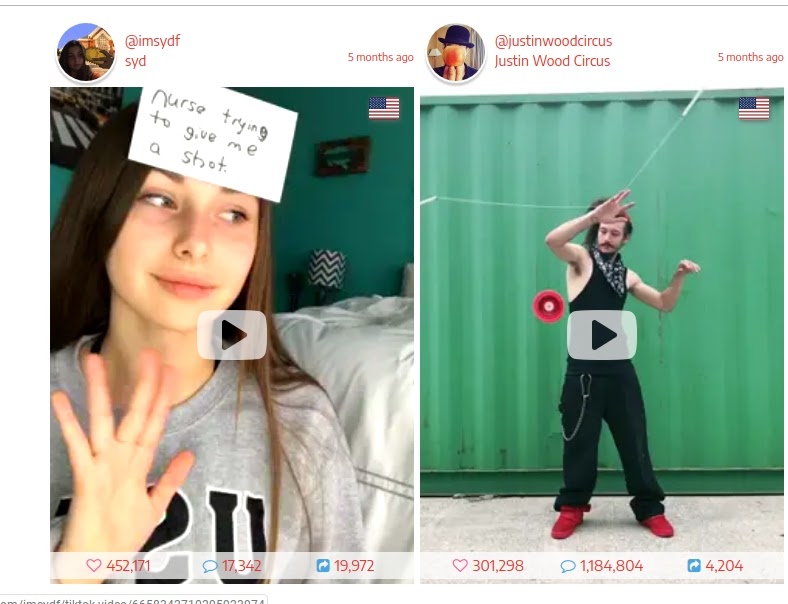 The celebrity-based influencer marketing campaign reached 3,173,500 users and earned an engagement rate of 338,500, as well as 9.5 million views for posts with the hashtag #memeathon.
While this was a high-profile influencer marketing campaign, it's a testament to how the right people can help you accelerate your success on the platform.
Do your research, find smaller influencers making waves in your industry or niche, and reach out to them.
Related: How can you plan a successful influencer campaign?

Final thoughts on TikTok
In summary, to make waves as a small business on TikTok, you should:
Use paid ad placements
Hop on trends
Create original content
Dabble in user-generated content
Get influential
"Build it, and they will come" only works in the movies. Social Media is a "build it, nurture it, engage them, and they may come and stay." ~Seth Godin
TikTok is the newest social media kid on the block and in these uncertain times, people are turning to video content more than ever for entertainment, enlightenment or personal connection.
By taking action and striking while the iron is hot, you can reach a whole new audience and grow your small business in ways you never thought possible.
When properly executed, TikTok marketing can be cost-effective, powerful, and (if you have the time) fun to do.
Follow our TikTok for small business marketing tips and you'll be on your way to social media domination in your space.
Image by: Olivier Bergeron via Unsplash.