How to write a sales email in 5 steps
If you aren't exactly sure how to write a sales email that connects with customers or prospects, you're in the right place. We're going to outline sales email tips that you can implement in five steps to create emails that won't raise your customers' spam alarms.
There are many ways to use psychology and clever copywriting to write emails that convert to sales, as well as grow your user base.
You can even leverage email marketing statistics to understand what works and what doesn't.
5 steps to writing a sales email that actually sells
In this article, we will show you how to write a sales email in an easy step-by-step process.
Learn your target audience.
Write a catchy subject line.
Highlight your value proposition (quickly).
Include a clear call-to-action (CTA).
Create a branded signature.
Then we'll provide seven sales email tips to keep in mind once you're ready to get your email marketing rolling. Let's dive in!
Related: With personalized Email marketing you can show them you know them

1. Learn your target audience
First, remember that every time you send out a sales email, the pitch is not about you or your business. It's about your reader.
At its best, your email outlines what your reader needs, rather than what you hope to sell them.
To hone in on what exactly your audience needs, you must know the general makeup of your audience.
Google Analytics is an effective way to assess such information, but you can also determine who enjoys your products or services via surveys or simply through previous customer interactions.
Spend time thinking about what types of consumers are signed up for your email listserv, and how your sales email ties into their lives and interests.
Sending such marketing-forward emails to individuals who have zero interest in what you're offering is not only a waste of your time, but it could legitimately upset some people and overall hurt your reputation.
2. Write a catchy subject line
Your subject line is the first (and possibly the only) thing a user sees when you send them an email. That's why knowing how to write a great one is so important.
There are many strategies for writing effective email subject lines, and much research has been poured into them.
For instance, a 2019 study that analyzed over 12 million outreach marketing emails determined personalized subject lines and longer subject lines both have higher response rates from customers, in contrast to shorter, non-personalized subject lines.
Take this example from my inbox:

Although Jennifer's attempt at getting me to open her email didn't work (she's targeting the wrong person), her use of my name certainly caught my attention.
She also used casual, conversational language in her subject line — rather than hammering home a sale, she tried to start a conversation. Most of us working in a B2B industry understand the sales game, so her approach comes off as more sincere.
Ultimately, the goal of your subject line is to get people to open your email.
If you know your customer base, can relate to them and are then able to quickly and clearly offer them something they need (or didn't know they needed), you've taken a great step toward writing more potent sales emails.
Related: Does your business plan include increasing sales? Take our quiz for tips.

3. Highlight your value proposition (quickly)
Congratulations, the user read your headline and actually opened your email — many don't, unfortunately, regardless of how good your subject line is (17.92% was the average open rate in 2018).
You got them to this stage, now what?
While it may be tempting to write a lengthy outline of why whatever you're selling (or hope to sell in the future) is worth the investment, it's often better to get to the point.
Brian Dean from BackLinko is my favorite example of someone who cuts straight to the chase — showing what value he's offering, why he's offering it, and even telling users what he wants them to do.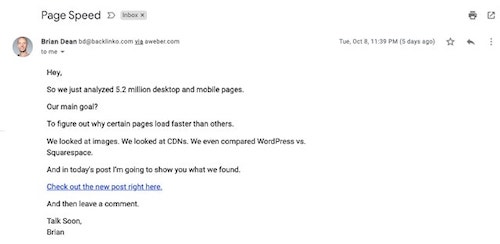 While this direct approach might not work in your particular industry, most people aren't interested in reading big, chunky paragraphs of text where you try to sell them something.
Tell users what you've got for them early on, then break the rest of your email into easily digestible parts.
This type of writing is important because it quickly drives people to the most important element of your sales email: the CTA.
4. Include a clear call-to-action (CTA)
A CTA is the part of your sales email where you get the reader to do something: to go to your website, request more information, or subscribe to future emails.
A call-to-action is also, of course, a call — it cries out for your reader to act.
And what it does cry out should be clear, otherwise, it could leave them confused and more likely to delete your email than act in a way beneficial to your business.
CTAs come in a variety of forms. If you're going for a visual CTA, a large button that takes a reader to your desired product page or blog post does the trick. Here's an example of how the SaaS business Termly uses a brightly colored button in an outreach email to encourage freemium customers to upgrade their plan: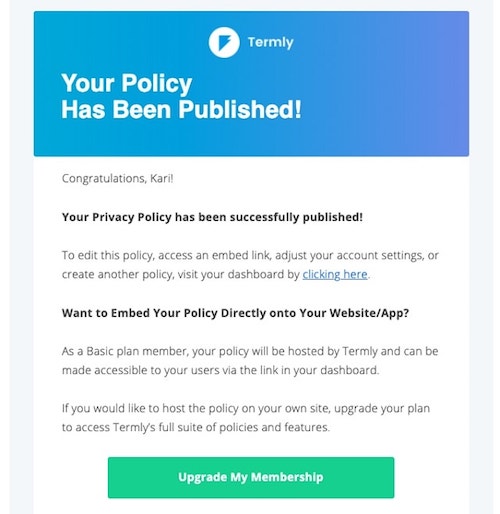 You can also simply use a link that goes to the desired relevant product page.
Just make sure the color stands out from the email text, and that the link text compels the reader to click it.
Note that "Click here!" is overdone and lacks subtlety, and may not be your best route if you want to write a truly effective CTA.
5. Create a branded signature
If readers have made it to the end of your email and they're still unsure how to proceed, having a branded email signature might help move them in the right direction.
Sales emails that don't include good signatures come off as unprofessional, so make sure you take time to create one that matches the branding of your company.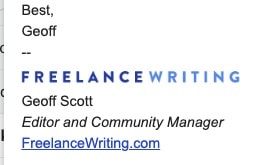 It doesn't need to be complex — just include your company's brand, your name, your title, and a link to your website. Here's mine (full disclosure, you could probably do better than this).
Related: 10 best practices for creating email signatures in Office 365
And that's it. If you:
Fully understand your audience and their needs.
Write a subject line that catches their attention.
Quickly showcase what value you're offering.
Give readers direction via an effective CTA.
Have a professional signature.
Your sales emails will be trending in the direction of making you more money and better engaging customers.
7 sales email tips
Now that you've learned how to write a sales email in five simple steps, it's time to learn how to write sales emails that drive conversions and improve your business prospects.
Be honest with your customers.
Go automatic.
Mix up your sales email strategies
Target a pain point (via emotions).
Don't talk down to the reader.
Make them curious.
Believe in your product.
Use these seven sales email tips to work into your future marketing efforts (or to simply keep in mind).
1. Be honest with your customers
It should go without saying, but don't make promises you can't keep in your sales emails, and avoid acting as an authority in areas you and your business are not. All it takes is one person to expose your stretches of the truth, and your reputation will be in serious jeopardy.
Also, buying an email list is bad, so steer clear of such temptation.
While it's problematic for a variety of reasons, the main issue is that it's dishonest. If a user starts receiving sales emails from you but never actually signed up for them, it will make you look bad. Building a good reputation requires a lot more effort than it takes to destroy it.
2. Go automatic
Most likely you aren't sending out manual emails to each individual customer, and you've already included some form of automation in your sales email strategy. However, there's a chance you aren't using it to its full potential.
Investigate the different ways you can make technology work for you, because at the end of the day, email marketing is a numbers game.
With low open rates across every industry, your chances of success will greatly be increased by better volume (but still don't buy email lists).
3. Mix up your sales email strategies
Although we mentioned CTAs as an important step in how to write a sales email section earlier, not every email needs a call-to-action. It all depends on your customers and what you think will resonate with them.
Consider a drip campaign. Let's say your reader subscribed to a six-email campaign. They're giving you a chance to tell them a story. Take your time, and slowly build up to your pitch.
You can afford to send one, two, or even three emails that have no calls-to-action. Make each email interesting, end them with cliffhangers. Before you know it, the reader will be looking forward to the next one.
Sometimes, not being able to click through can act as a powerful incentive to act later —similar to a movie trailer that comes out long before the actual movie hits theaters.
And sometimes, it's OK to just tell a story — even when it's a single email and not a drip campaign. If you have something interesting to say that you think would resonate with your readers, there's no harm building rapport with them.
4. Target a pain point (via emotions)
If you can evoke a positive emotional response from users who opened the email you sent them, you're already close to landing a new customer.
People buy based on emotion, and justify their decision with facts.
So if you're asking yourself how to write a sales email, you don't need a ton of logic, reason, or facts — the sales page where someone orders your product or service can have more of those details.
In order to get someone to click a link in an email, you need to start with feelings.
You can begin by looking at the desires and fears of your ideal clients and customers. Do they want freedom, self-expression, understanding, support, love, security, prosperity, connection? Or are they running away from pain, confusion, anger, shame?
For instance, if you happen to sell marriage counseling, you can't let people ignore their feelings, because then they won't get the help they need. If someone has been experiencing marital issues but is sweeping everything under the carpet, it's time for you to expose that things aren't going to get resolved unless something changes.
5. Don't talk down to the reader
Put your readers at ease with your sales email. Never make them feel like you're above them, or that you're judging their situation — even if you happen to have a solution to their problems.
Take the edge off by sharing your own stories and life experiences, ones that can help you connect with them on a more human level.
If you're unsure how to write a sales email, try to use visuals and paint a picture with words, tapping into different senses if possible. Relate to the reader rather than treat them like you're only in it for the money, and you'll be surprised how much more responsive they are to what you're selling.
6. Make them curious
Start your sales email with a few sentences or questions that arouse curiosity.
If the first line screams "I'm going to sell you something" (usually this happens when you talk about yourself or your product right off the bat), then your reader will quickly move on.
You can start with a story, a funny occurrence, or a question where someone who would be a great prospect for your sales offer might respond with a "yes."
Example: Start with a question like "Have you ever wanted to go skydiving?" If you sell trips where skydiving is offered, that's a great way to get people to keep reading.
7. Believe in your product
If you're in business offering products and services that you believe in, you'll be able to sincerely write the "pitch" part of your sales email. Readers can often detect whether you're stringing them along or not.
Note that if you don't fully buy into what you're selling yet, think about its strongest attributes and focus on those (and hopefully one day you'll get there).
To express this belief with sincerity, write about why now is the time for your reader to take action. Tell them exactly what to do in a strong call-to-action: click the link, hit reply, or pick up the phone to talk to you.
Conclusion and next steps
Understanding how to write a sales email is a big part of running an effective enterprise.
If you can put together your own and then mix the various sales email tips we've outlined in your future campaigns, your email marketing future is looking bright.
Need help designing and managing a professional newsletter? GoDaddy's Email Marketing can lend a hand.
This article includes content originally published on the GoDaddy blog by the following authors: Erez Zukerman and Nathalie Lussier.
Image by: Jan Tinneberg via Unsplash.